Hayashibara Megumi
Internet Fan Club Newsletter
Volume 1, Issue 2
Copyright (C) 1994 by Jeff Okamoto. All rights reserved.
Photo of Megumi Hayashibara is Copyright (C) 1994 by Jeff Okamoto. All rights reserved.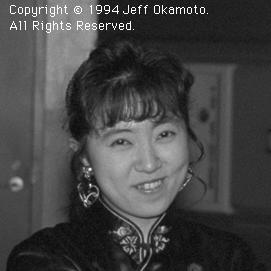 Thanks for reading this, the third issue of the Hayashibara Megumi Internet Fan Club! Your fan club now has thirty-seven members from five different countries.
In this issue, we present a review of another of Ms. Hayashibara's CD's: "Whatever". Also included are details of Ms. Hayashibara's radio program, "Tokyo Boogie Night".
Media Update
First however, an update on media coverage of Ms. Hayashibara. Two of the major American animation magazines have now published their coverages of last summer's animation conventions and have included their interviews of Ms. Hayashibara. The first is issue #10 of Anime UK; the second is the December 1993 issue of Animerica. Hopefully V-Max and Protoculture Addicts will also follow suit shortly.
Tokyo Boogie Night
Every Sunday morning at 0200 JST, on a frequency of 954 kHz, NHK broadcasts Ms. Hayashibara's radio program "Tokyo Boogie Night". This 30-minute radio program consists mostly of Ms. Hayashibara reading letters from fans, and an occasional interview with other voice actors. The second 15 minutes is episodes of different radio dramas, which over time will comprise a complete story. Although "Tokyo Boogie Night" is local to the Tokyo area, Ms. Hayashibara also has another radio program broadcast in the Osaka area. The program is called "Megumi's Heartful Station", but no other details are available at present.
CD Review
We now present a review by Michael Studte of Ms. Hayashibara's CD Whatever.
Starchild KICS-176 (released 1992.3.5), Y3000, 16 tracks, 65:25
This CD was released in early 1992. It is a nice bridging disk between "HALF AND HALF" and "SHAMROCK". At the same time, it has some interesting tracks that are a little unusual for those who know Megumi's normal style of song. "Yoake no Shooting Star" is an image song for Gundam 0080 exploring Megumi's powerful voice. Track 2 is a 3x3 Eyes image song, sung in Pai's pitch. For track 3, Megumi uses her lower voice to get the timbre for this Shurato song. "Prism Eye" is a nice upbeat song. Track 5 is a good highway song, turn it up and roll the window down. Megumi also gets some interesting twists out of her voice in this one. Track 6 will probably shock a few people the first time they hear it: Megumi sings a very melancholy song, bordering on the blues. The song (a Shurato image song?) is entirely in English, and very well done (she never let on at Anime America that her English pronunciation was this good). "Holy Road" will pick the listener up again though, with a nice Latin American beat provided by 3x3 Eyes' Takada Band. Pai once again sings on track 8 in a new version of this song from the 3x3 Eyes CD's. Track 9 is a nice high-energy song, to get the feet tapping. The following track (most obviously by the composer of Iczer-1) is from the Gakusaver series. Call me old-fashioned, but that is my favourite song on this CD. Megumi's vocals perfectly sync with the music. Track 11 is a romantic song with light lyrics (nice to hum along to). On track 12 another Latin American beat surrounds this SD Gundam (eh??) song sung by Megumi in her Mackenzie persona (that is one strange combination for this type of song). "Distance" is a new recording from the 3x3 Eyes CD song, Latin American music courtesy of Takada Band again. The song seems only slightly remixed from the original recording, retaining its feel almost entirely. Track 14 is "Tokyo Boogie Night", the title track for Megumi's radio show. Nice to hear the full song since the radio show only ever plays the intro riff and the song very faint in the background. A nice high-powered track (highway time again). The final track is "Niji-iro Sneaker", a nice heart-warming song. It can also be found on Megumi's RIBBON music video LD (a fun music clip) [and on her first CD, "Half and, Half"] and nicely rounds out this CD.
It's hard to rate this CD against Megumi's other CDs. I play all of Megumi's CD roughly the same number of times, all of them have great tracks on them. I possibly slightly favour this CD because of the Latin American feel, the Gakusaver song and the emotion of "Still Waiting". It's 3000 yen well spent.
To contact this newsletter, send electronic mail to the Internet address okamoto@seiyuu.com.
Please also include your permanent mailing address.
---
Hayashibara Megumi Internet Fan Club / seiyuu.com!okamoto / 7 Sep 1995